A travel grant for an international conference is one of the best ways to explore new research opportunities and gain a better understanding of the work that is being done in your research field. This experience will also serve as a networking opportunity, as leaders will have the chance to meet and connect with other professionals in their field. This is especially valuable for young leaders who are looking to establish themselves in their chosen fields.
Attending an international conference is an excellent opportunity for academics and researchers to share their work, learn from others, and broaden their knowledge. However, traveling to attend conferences can be costly, particularly for those who live in developing countries or have limited funding opportunities. This is where travel grants for international conferences come in, providing financial assistance to individuals who need it.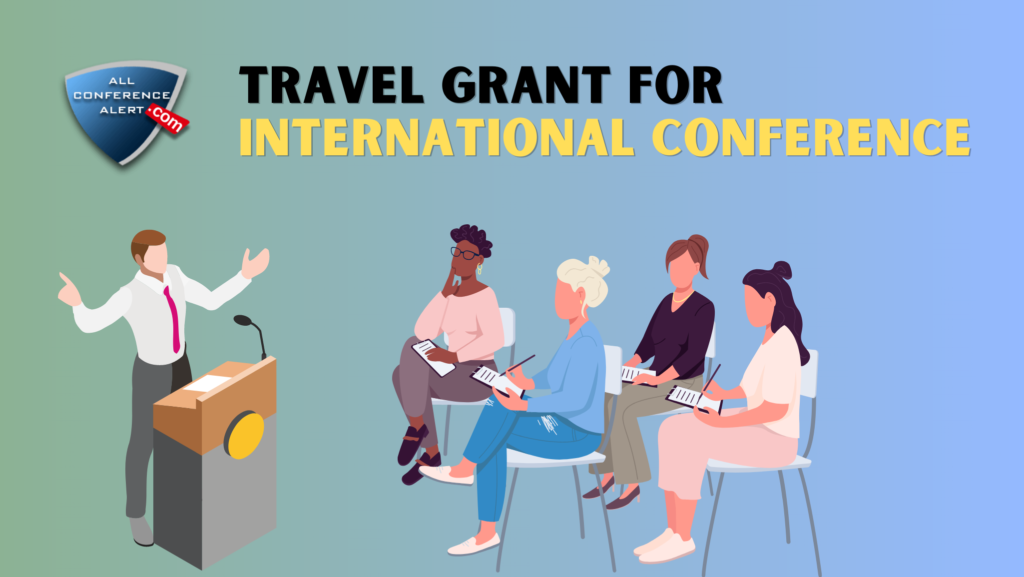 How do I get a travel grant for a conference?
A travel grant is a financial award given to an individual to cover the costs associated with attending a conference. These grants are typically provided by universities, foundations, government agencies, or professional organizations. They can be used to cover expenses such as airfare, lodging, registration fees, and other related expenses.
Travel grants are usually awarded based on the merit of the applicant's research or presentation. This means that the selection process is often competitive, and applicants are required to submit a detailed proposal outlining their research objectives and how attending the conference will benefit their work. The proposal may also include a budget indicating the estimated costs associated with attending the conference.
How to apply for a travel grant?
To apply for a travel grant, you will need to research potential funding sources and identify those that are relevant to your field of study. Some organizations that provide travel grants for international conferences include the Fulbright program, the National Science Foundation, and the European Commission. You can also check with your university or professional organization to see if they offer travel grants.
When applying for a travel grant, it is essential to read the guidelines carefully and ensure that you meet all the eligibility requirements. This may include being enrolled in a degree program or having a particular level of experience in your field of study. You will also need to provide supporting documents, such as letters of recommendation, academic transcripts, and a CV.
If you are awarded a travel grant, it is crucial to use the funds responsibly and make the most of your conference experience. This may involve networking with other attendees, attending relevant sessions and workshops, and presenting your research or work.
Travel grant for international conference for Indian students:
Below is a list of institutions that provide travel grants for international conference for Indian students:
Conclusion:
Travel grants for international conferences provide a valuable opportunity for academics and researchers to expand their knowledge and share their work with others. By applying for travel grants, individuals can overcome financial barriers and access these critical professional development opportunities. If you are considering attending an international conference, we encourage you to explore the various funding options available to you and take advantage of these opportunities.
Common Q & A:
Is travel agency help to get travel grant for international conference?
Travel agencies typically do not provide travel grants for international conferences. Travel agencies are businesses that help individuals and groups plan and book their travel arrangements, such as flights, accommodations, and transportation. While they may be able to help you find the best deals on travel and accommodations for your conference, they are not usually involved in providing financial assistance to attend conferences.
Does the conference pay for travel?
While some conferences may cover travel expenses for their speakers, it is not common for conferences to cover the travel expenses of all attendees. Generally, attendees are responsible for their own travel expenses, including airfare, lodging, meals, and transportation.
However, some conferences may offer travel grants or financial assistance to attendees who need it. These travel grants may be provided by the conference organizers or by external organizations such as universities, foundations, or government agencies.
It is important to research the conference you are interested in attending and their policies on travel grants or financial assistance. This information can usually be found on the conference website or by contacting the conference organizers directly.
How much money need to attain international conference?
The amount of money needed to attend an international conference can vary widely depending on several factors, including the location of the conference, the duration of the conference, and the individual's travel and accommodation preferences.
In general, the cost of attending an international conference can include:
Airfare: The cost of round-trip airfare to the conference location.
Accommodations: The cost of lodging during the conference, can range from budget-friendly hostels to high-end hotels.
Conference fees: The cost of registration fees, which can vary widely depending on the conference and the attendee's status (e.g., student or professional).
Meals: The cost of food and drinks during the conference.
Transportation: The cost of transportation to and from the airport, as well as any local transportation needed during the conference.
The total cost of attending an international conference can range from a few hundred dollars to several thousand dollars, depending on these factors. Travel grants or financial assistance may be available to help cover some or all of these expenses for eligible attendees.
It is important to carefully budget for all expenses and consider any available funding sources when planning to attend an international conference.
Content Copywrite by: AllconferenceAlert.com